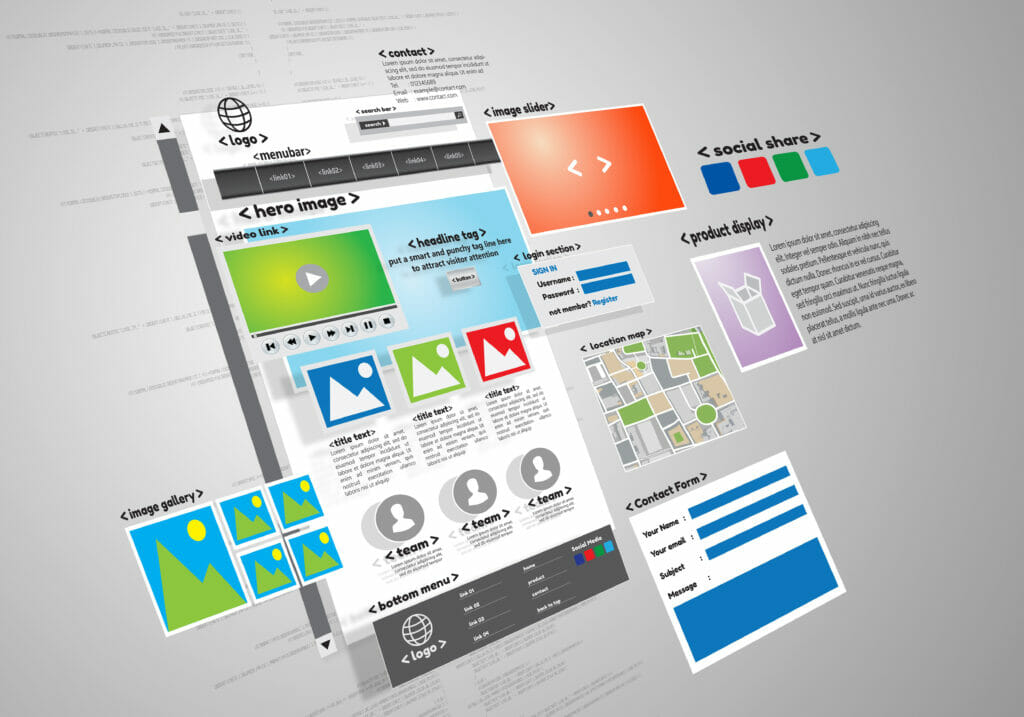 It's no surprise that digital and the web are ever evolving, and arguably, there are few industries that change quite as rapidly. In a relatively short time, we've seen a wide variety of trends in website structure and design. In the last five years alone, single scroll sites, sites with prominent video headers, and a return to robust multi-page menus have all risen and fallen in popularity. 
There's no one right style or approach when designing a site. What works best in terms of design and functionality will truly be as unique and varied as the business the site represents and really lies in the hands of the end user. A good site needs to be first and foremost centered around the target user's experience, because the ultimate SEO move is to make a site that positions you as an authority on a given topic and helps out your end user. That said, there are best practices to apply to the back end infrastructure when building
chose crawlable themes 
Most websites built today are constructed from CMS systems such as WordPress, Squarespace, or Joomla. Each of these platforms have baked in "themes" you can choose from that provide the overall structure to which you add your content and design. In order to provide Google with enough written content to know who you are and what you do, you should select themes that provide a balance between imagery and words on the page. The content on your site should give sufficient information so you can be found for the services you provide, while being succinct enough to maintain viewer engagement. 
Image heavy themes have their uses, particularly if you're in an industry where what you do is better visually represented than in writing. Look for themes that allow space for crawable written content over or near the images on display rather than embedded within the image. 
optimize written content
Before you go live, it's a good idea to review the content you've written through a keyword and search term lens. Here's where you'll have to strike a balance between injecting your brand personality and writing for search terms. A paragraph or description of your services can be perfectly written from the perspective of your brand, but not contain enough clear information about who you are, what you do, or where you're located for Google. Consider how someone might construct an online search for your business or services, and be sure to include that direct language in your content. For example, let's say you're a tree trimming service we'll hypothetically name Bob's Felling. Felling may not be the term most users think of to search residential tree trimming. Be sure to include a straight forward term like "residential tree trimming" within the description for that service in order to be found in Google's listings. More good news here, you're not locked into that term forever. Let's say over time you find that the best performing term is simply "tree trimming" rather than specifying residential tree trimming. From that learning you can go on and tweak the header or section title to be sure it spotlights tree trimming front and center. 
Speaking of headers and section titles, optimizing your content for SEO is a mixture of having good title tags and meta descriptions (which we get into down below) and making your site content easily digestible. This is best done with clear sub-heads using appropriate header tags, employing bullets for lists, and using call-outs for the most relevant content you want to be known for. Anything that helps the reader find relevant content quickly will create a great on-site experience and also continues to add context for Google in a hierarchical way. 
properly label images
Ever wonder where the catalog of images comes from in a google image search? Whether you're looking for an example of a felled tree or want to lay eyes on a picture of a red panda, that's actually all user generated content. Often when we receive images we commissioned or download from stock services they'll come to us with file names such as IMG_1234 or Stock_1234. Images with generic numerical names such as these are extremely unlikely to ever turn up on a google search. We recommend renaming the image with something relevant to what your users might be looking for. To borrow from the earlier example from Bob's Felling, this might look like "treetrimmingspringfieldmo.jpg." That gives you just one more place where Google can find you and direct people to your site and services. 
(Speaking of red pandas, this guy says hello, courtesy of Smithsonian Magazine and Catalin Mitrache via Getty Images.)
title tags and meta descriptions
Just like the content in each section and the images you display, the pages on your website are indexable and searchable by Google. Ensuring they are properly named with enough information to tell the internet spiders about yourself will make you that much easier to find. For instance, we often see generic page titles such as "About Us" or "Our History." These can be slightly adjusted with not many more characters in order to share who you are and what you do. These might be better modified to "About Bob's Felling – Springfield, MO" or "History of Bob's Felling – Springfield, MO."
For more detailed information on title tags and meta descriptions, check out our previous post about Foundational SEO Best Practices.
make the action clear
These steps are best taken from the jump, and websites that are built with these tenants in mind will likely see superior performance in both organic and paid visitation. The reason for this is that Google is able to catalog the keywords and images it cares about in their first appearance rather than having to change its initial digital impression over several weeks and months. That said, all is not lost if your existing site isn't well-optimized. Applying these edits after the fact may be more time consuming and reduce your efficiencies, however, you are still able to make adjustments to content, images, and on-page CTAs after your site has been in the world for some time. 
We know it can be challenging to write for search. In a nutshell it's best to write naturally and not stuff too many keywords into any given phrase, while at the same time remembering to include high value keywords. Stay the course and you'll be rewarded in the long term with dividends for the time you put into SEO. Hit us up if you want to chat about optimizing your existing website, starting a new web project, or if you just need the moral support as you're writing!
Go forth. Go Digital.
-The cohort.crew