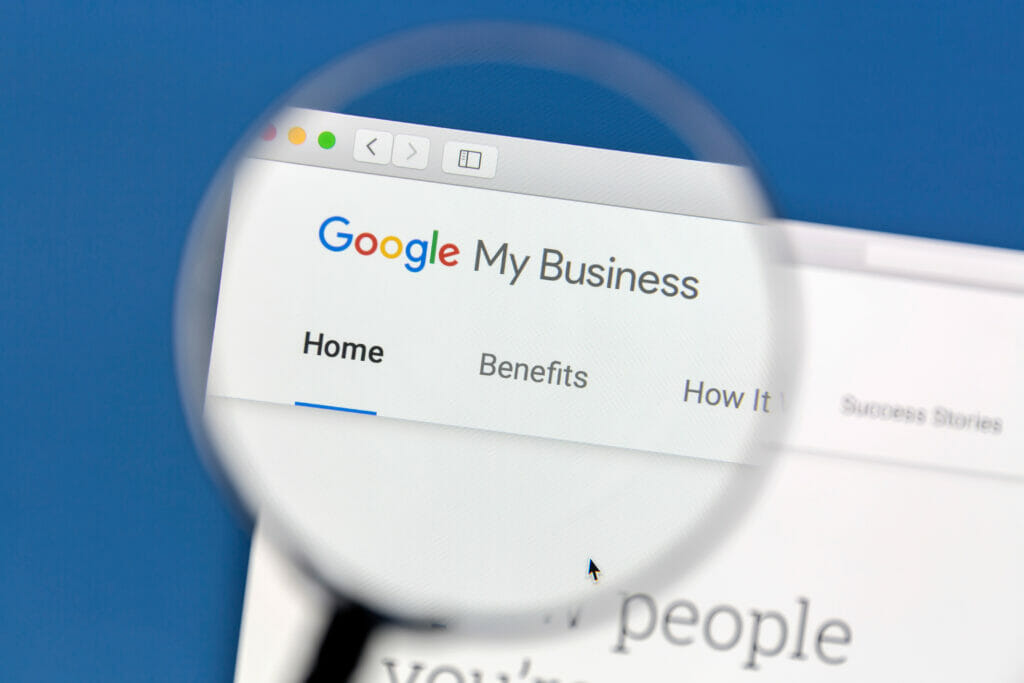 Most consumers do their research and look for goods and services by turning to search engines as a first step–and nearly 90 percent of all search engine traffic goes through Google. Google is always out there rather impressively crawling the web looking for the most relevant listings to display at the top of their results page. The top three listings of a Google search get 60 percent of the clicks, so earning a top spot on the first page can go a long way in generating new business. That's why it's increasingly important to pay your dues to the almighty search engine.
what is Google Business Profile (Or Google My Business)?
In 2022, Google is transitioning from the name Google My Business to Google Business Profile. It's a tool that ensures Google positions its listings appropriately within the available web real estate. When someone searches Tony's Pizza in KCMO, Google will weigh what it knows about those search terms and populate a list of businesses that meet those search criteria for the person looking. Google Business Profile listings are a powerful way to increase your search engine visibility and reach new customers because it allows them to quickly view photos, business hours, ratings, and read reviews to make decisions. They provide a knowledge panel and listing to the right of the search list as shown in the example below.
how can I improve my GBP account?
A well optimized Google Business Profile can improve engagement, boost local rankings, and help convert more customers in concert with other digital strategies. This includes making sure your business name is accurate, the overview is clear and concise, and your hours and contact information are clearly stated. If you want to go the extra mile, it's good practice to add attractive photos that add legitimacy to your products and services and include buttons or hotlinks that allow your client to immediately call, place an order, or check out your website.
how to manage third party contacts "claiming" your GBP account
A sad reality today is that anyone with an internet presence and Google listing may fall target to independent digital marketers (or sometimes scammers) seeking to claim GBP listings for profit. At best, these folks are legitimate digital marketers looking for a foot in the door, and at worst they are looking to claim or own your listing with the goal of soliciting a payment from your organization to purchase the rights back from you. Here's an overview of what to know and do should you receive these calls and inquiries.
If you receive a call from one of these entities, you can mostly ignore it. If they get as far as asking for permission to access your GBP account – deny them. However, in most instances they won't make it to this step and you can simply avoid or ignore the calls as spam when they come through.
A more savvy marketer or scammer will go the route of digitally requesting access to your company's GBP account in one of three ways, by phone, email, or postcard. It's unlikely they will be able to access your account via the phone number attached to it and it is more likely they will ask to verify by email or postcard. Administrators on the account should receive an email notification asking for you to approve or reject the individual's access. Do not ignore these email requests. As soon as you see this notification, be sure to reject this request. It's as easy as that.
Emails get buried, employees go on vacation, circumstances may arise that prevent you from rejecting these requests, or the scammer may go the route of requesting a postcard verification. Don't fret just yet. There is an additional step that must be taken to grant access. If you receive a postcard from Google to your brick and mortar, it will be addressed to the administrator of your GBP account. It's a good practice to ask your reception or front-of-house personnel to make sure any and all mail from Google is routed to you and not thrown out as junk. If you notice you've received a request to access your GBP, take the time to notify appropriate personnel that any mail from Google received in the coming days and weeks should be routed to you immediately. With this information, follow the steps indicated on the postcard to reject or deny their access. It's as simple as that!
What happens if you aren't able to complete any of the steps above in time? We hope you never have to utilize this information. However, should an unwanted party gain access to your GBP account, your next level of recourse is to contact Google support. Report a violation that an unwanted third party has accessed your account by filling out the following support form. The response times may vary or feel as though they're moving at a glacial pace when your company's primary business listing is on the line, but stay the course and Google will help you resolve the matter.
Note: As of the time of this writing, Google has made some minor changes to GBP. They have retired the Google My Business app, with the goal of making GBP accounts more accessible to users by simply searching "my business" when logged in. Additionally, Google has announced that they'll no longer service small and medium sized businesses seeking help with their GBP accounts, only those businesses with multiple locations in their profiles. On the outset, this may seem like Google is lacking in service. However, it seems the changes they have made to the application have been with the goal of making an easier user experience requiring less assistance overall. We anticipate more changes throughout the year and going forward.
Updating and protecting your GBP listing is a relatively simple lift that can pay for itself many times over. Just like your website, your GBP listing won't ever take a vacation day and will work for you to provide information to your prospective customers at all times.
Go forth. Go digital.
-cohort.crew